Landfill Plan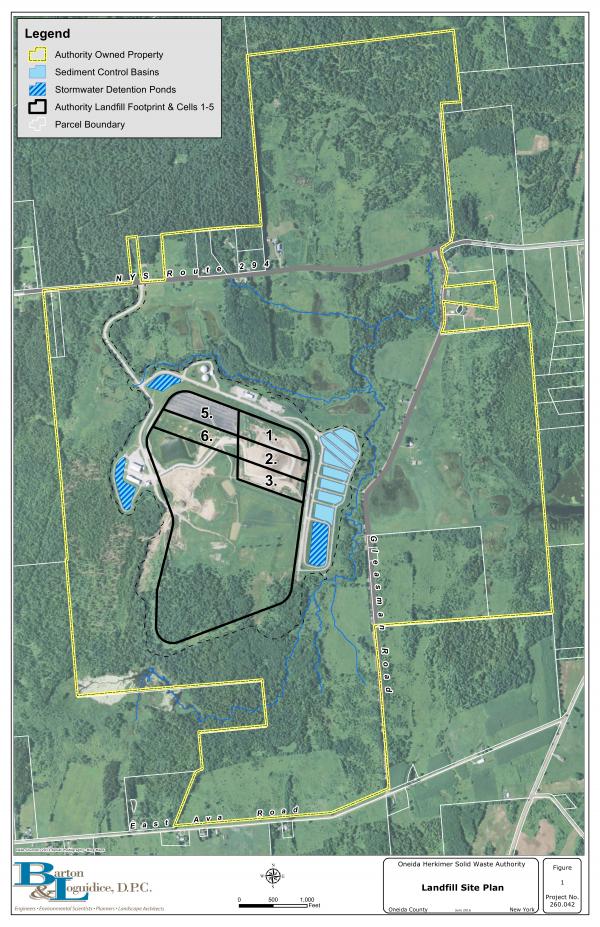 Location:
Town of Ava, NY
Owner & Operator
Oneida-Herkimer Solid Waste Authority


Permitted Capacity & Acceptable Wastes
Permitted to receive 1,000 tons per day of waste
Accepts only waste generated in Oneida and Herkimer Counties
Acceptable waste includes non-hazardous residential, commercial and industrial waste and construction and demolition debris
Startup & Estimated Site Life
Opened October 24, 2006
Estimated site life of 76 Years
---
Site Areas
Total Landfill Site Area
1,247 acres
Buffer Areas
995 acres of the site are used for visual screening, snowmobile trails, and wetland mitigation.
Support Facilities
102 acres of the site are used for access roads, maintenance/office buildings, leachate tanks/pump station, sediment control basins, and stormwater detention basins.
Landfill Cells
150 acres of the site will be used for the disposal of waste over the estimated 76-year life of the landfill.
Underlain by deep tight soils.
Dual composite liner system constructed beneath all areas of the footprint that will provide a collection of leachate (water that has come in contact with waste), and protection of groundwater resources.
All areas of the footprint will be capped with a protection layer after reaching final elevations.
A landfill gas collection system will be installed throughout footprint.
---
Landfill Components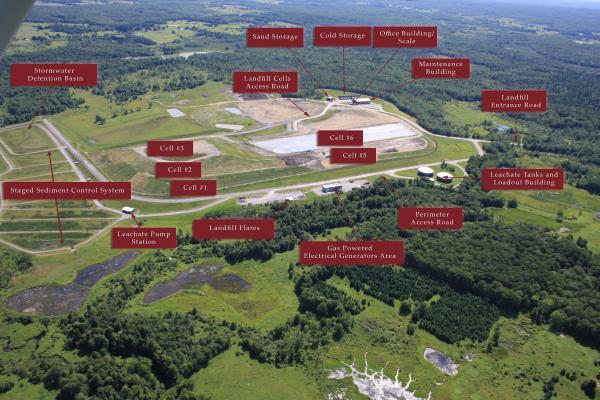 Landfill Cells
Construction of landfill cells 1, 2 and 3 was completed in October 2006 and totaled approximately 23.6 acres. Cell 5 was completed in 2010 and is approximately 9.3 acres, Cell 6 was completed in 2014 and is about 8.95 acres.
Construction of the remaining cells will be phased in throughout the life of the landfill.
Stormwater Detention Basins
Series of basins that collect stormwater, not leachate, for controlled discharge to streams to prevent flooding.
Staged Sediment Control System
Series of shallow ponds that collect sediment, i.e. silt/sand, from stormwater to prevent silting of streams.
Office Building & Scale
Regional Landfill Offices
Scale house to control access to the site and weigh incoming waste.
Maintenance and Storage Buildings
Buildings for the maintenance/storage of landfill equipment, facilities for landfill personnel, and landfill office.
Building for storage of sand for ice control on landfill roads.
Leachate Pump Station
Leachate pump station collects leachate from landfill cell's liner system and pumps to leachate storage tanks.
Leachate Storage Tanks & Loadout Building
Two, 1.3 million gallon dual containment tanks to store the leachate collected by the liner systems. Leachate is pumped into tankers for transportation and disposal at a wastewater treatment facility.
Landfill Gas Area
Consists of a landfill gas powered electrical generation building operated by WMRE and currently utilizing two engines. There are also two twin landfill flares employed to destroy excess landfill gas not used by the engines.
---

Liner Diagram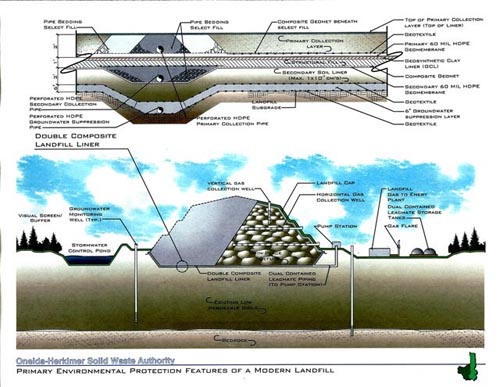 Leachate Management Diagram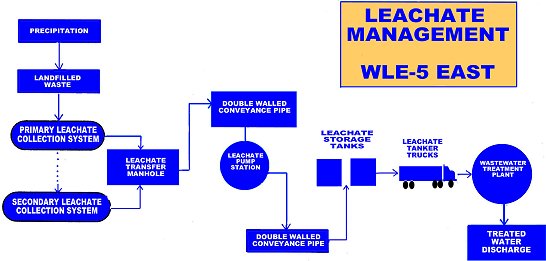 ---
Landfill Cap
Capping of the landfill will be progressive as landfill operations proceed across the site. There will be sections of the landfill they are closed and capped while other sections of the landfill are still operating. The landfill cap is a composite barrier system that is designed to limit water infiltration into the waste and leachate collection system and release of landfill gas to the atmosphere.
Prior to installation of the capping system on a section of the landfill, the waste and intermediate cover will be graded to bring the area to the elevations shown on the final design plans. The capping system will then be installed as shown in the figure below and will consist of the following layers:
The top cap system layers from bottom to top are as follows:
1.5-foot thick low permeability soil layer
40 mil (.040 inch) thick polyvinyl chloride (PVC) geomembrane layer
1.0-foot granular drainage layer
1.0-foot protective soil layer
6-inch topsoil layer
Vegetative cover
The side slope capping system will contain either a low permeability soil liner or PVC geomembrane as the barrier layer. The granular layer, a protective soil layer, topsoil layer, and vegetative cover will be the same construction as the top cap as referenced above.