Clothing Drop-Off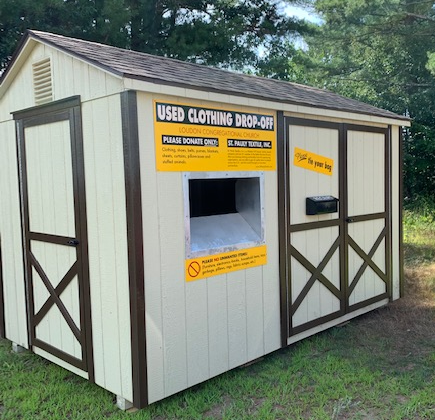 The Authority has a Clothing Drop Off Box at the EcoDrop Utica and EcoDrop Rome for the delivery of used clothing, shoes, sneakers, belts, purses, blankets, sheets, drapes, pillowcases and stuffed animals for donation. All materials/items must be dropped off in plastic bags.
Find the nearest Drop-Off Location for textiles recycling and donation.
Acceptable items for recycling include:
Old Clothes - all items should be clean and dry.
All Footwear
Accessories such as hats, gloves, scarves, pocketbooks, duffle bags, belts and ties
Linens: sheets, blankets, comforters, towels, throw rugs, draperies, table linens
Stuffed Animals
The following drop off locations will also accept the items listed above:
Bridgewater - Bridgewater Congregational Church
Boonville - Boonville Alliance Church
Chadwicks - St. Patrick's/St. Anthony's Catholic Church
Clinton - Life in Christ Family Church
Herkimer - First United Methodist Church
Marcy - Assembly of God
New Hartford - New Hartford First UMC
New Hartford - St. John the Evangelist Church
Rome - New Day Foursquare Gospel Church
Rome - Rome Rescue Mission
Sauquoit - Sauquoit Valley United Methodist Church
Utica - Living Stones Church
Utica - Our Lady of Lourdes
Utica - Utica Rescue Mission & Holy Trinity Church
Utica - West Schuyler United Methodist Church
Vernon - Church of the Holy Family
Verona - Church of Our Lady of Good Counsel
Whitesboro - Trinity United Methodist Church
West Winfield - St. Joseph's Church
In addition, the First Presbyterian Church located at 1605 Genesee Street, Utica, NY accepts clothing donations for those in need. Donations are accepted at the church every Wednesday morning.
The Veteran's Outreach Center located at 726 Washington Street in Utica will also accept clothing and other household items for donation. More Information
The Authority has joined a statewide textile recovery campaign titled "ReClothe NY" to recover unwanted clothing and textiles for recycling. Find More Information about textile recycling programs in New York State.