The Oneida-Herkimer Solid Waste Authority (Authority) has been selected to receive a 2017 U.S. EPA Environmental Champion Award from the EPA (Environmental Protection Agency), Region 2. The EPA annually recognizes individuals, businesses, government and organizations that have demonstrated outstanding commitment to protecting and enhancing environmental quality and public health. The Environmental Champion Award is the highest recognition bestowed to the public by EPA, Region 2.
The Authority has promoted reduction, maximized recycling, and provided safe, economical disposal for non-recyclable waste for the two-County region since its creation 28 years ago. The Authority is being recognized by the EPA for its integrated system and strong public information efforts, including its most recent, "Am I Recyclable?" campaign.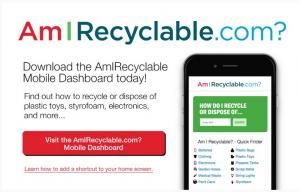 Throughout the campaign, the Authority utilized digital advertising and billboards to help educate and encourage the public to engage in the recycling conversation. The "Am I Recyclable?" campaign includes a mobile web app, which is a scaled down version of the "How Do I Recycle or Dispose of" search tool at the top of the page. The mobile web app includes a "Quick Finder" which highlights the top 12 items of contamination in the recycling stream and explains how to properly dispose of them:
| | | |
| --- | --- | --- |
| Batteries | Medical Waste | Propane Tanks |
| Clothing | Paint Cans | Scrap Metal |
| Electronics | Plastic Bags | String Lights |
| Garden Hoses | Plastic Toys | Styrofoam |
The mobile web app can be viewed by visiting www.AmIRecyclable.com.
The Authority will be honored at an awards ceremony to be held on May 19th at the EPA Regional Office in New York City.
For more information regarding Authority programs and services, please Contact Us.